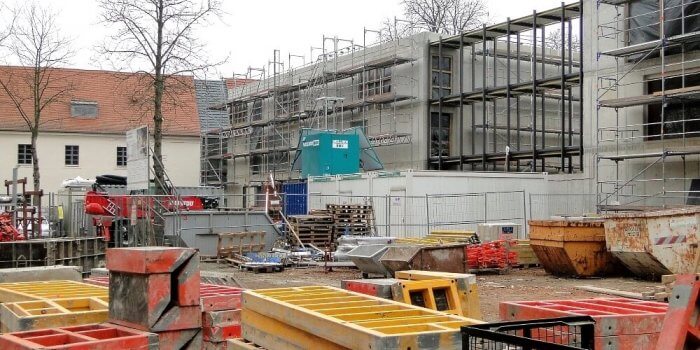 Construction site surveillance for rent
A construction site is a temporary event (Berlin Airport will also be finished as a construction site once) and thus the subject of site supervision must always be regarded as limited in time. To do justice to this fact, we offer the WellnerBOX system in different variants as a rentable solution with flexible booking periods. This includes the delivery and installation of the system and, of course, the removal after the end of the rental period. We also offer the connection to a video-capable emergency call and service control centre (NSL) at a fixed monthly price, including virtual guard tours, live contact with the perpetrators and alarm prosecution. Our technicians carry out general service and maintenance work as required, partly by remote access. So we offer a construction site monitoring service for rent completely from a single source!
Free choice of NSL
A big advantage of our WellnerBOX is the possibility to use different NSLs for connection. This gives you all the flexibility you need and allows you to use the security service you are familiar with. The only technical requirement for a connection is that the NSL can connect HeiTel products and supports the HTConnect protocol (or a VPN). Since HeiTel is very widespread, any security service that can switch on video will also be able to switch on HeiTel and thus our WellnerBOX. At least he will be able to receive the alarms and react to them. WellnerBOX systems are currently connected to 5 different security services (and thus to their NSL or video control station) (including SWSG and Conexis). The low false alarm rate of the WellnerBOX always triggers enthusiasm among the employees of the NSLs, especially when the security service comes into contact with a WellnerBOX for the first time.
Customer access to video images
In addition to a data connection to the respective security company, we also offer the possibility of viewing video images live or from the archive. This means that the WellnerBOX can also be used as a construction site camera without any problems. Appropriate data protection requirements must be clarified in advance. The respective data protection law can be individually implemented with the WellnerBOX.
Staggered rental prices
The rental prices of a WellnerBOX vary according to the rental period on the one hand and the equipment on the other. The type of power supply can be individually adapted to the respective requirements and can also be changed flexibly during the rental period. This makes it possible to rent the WellnerBOX with 100% self-sufficiency at the start of site monitoring and to operate the WellnerBOX directly at 230V after installation of a reliable power distribution system.