The World Cup in Oberhof is a fixed event and highlight for all winter sports fans every year. The international biathlon elite competes in the small Thuringian town and can rely on tens of thousands of enthusiastic fans and a good atmosphere at the track. Also for this year's 41st edition, around 65,000 fans flocked to the Rennsteig, a colourful and lively mixture of young and old. If you wanted to get a good place, you naturally have to get to the venue early enough, and so visitors naturally jammed up on the rather narrow paths shortly before noon and after the competitions. The organisation was very good, because the numerous helpers only let new spectators in "momentum by momentum". This system works great as long as someone keeps the overall view and always knows when to regulate or intervene where.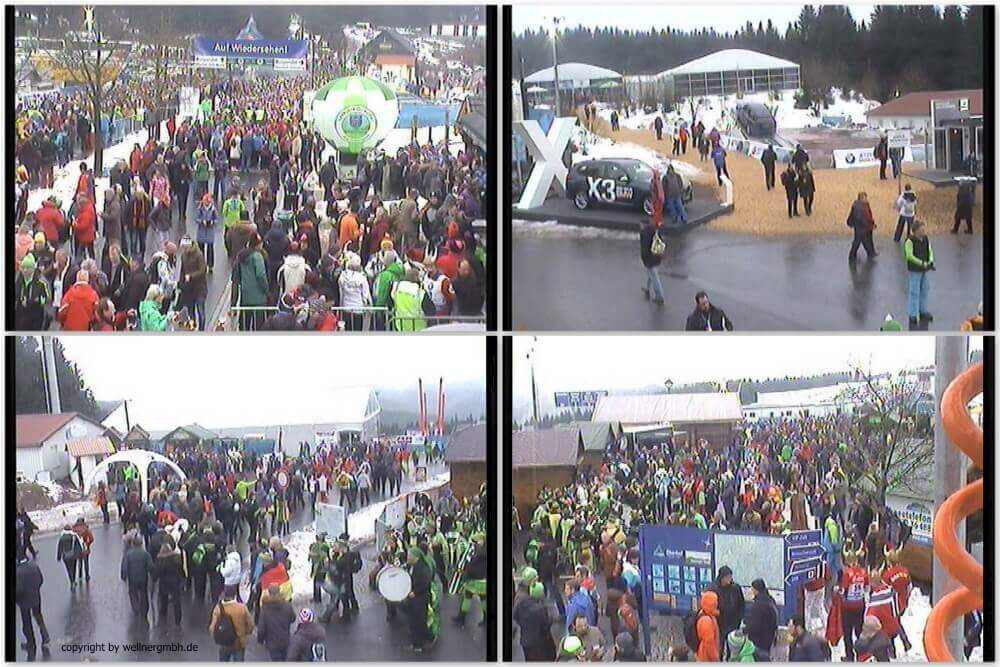 As in 2017, the security of the VSU Thüringen, which coordinated with the organizers, folders and police, was the responsibility of the organizers. Due to the good experiences with our system, a WellnerBOX was used again, which monitored the area for a total of 20 days. This also provided security during the construction and dismantling days and the all-in-one solution was able to show all its strengths. Between 10 p.m. and 6 a.m., the connected control station used the sensors of the video head to arm itself against unauthorized access. The mobile patrols of the security service provider could thus be sent to potential danger points at any time and carried out checks. The extremely low false alarm rate of a WellnerBOX ensured that the personnel did not have to chase after phantoms but only react to real alarm cases.
On the days of the event itself, the focus was on keeping an eye on the streams of visitors at the main and arena entrances, so the live features and camera of the WellnerBOX were used above all. From 09:00 a.m. on, attentive eyes in the Situation Centre of the police watched the goings-on and initiated operational measures if necessary. Several presets were already defined in advance for the most important points and were used, for example, to observe the hut village to locate crowds and forward them to security forces for examination. This mission planning functioned also considering the previous knowledge with our technology very well and guaranteed for all visitors of the Biathlon World Cup Oberhof a safe and entertaining long sports weekend.
As expected the WellnerBOX was not impressed by the external circumstances, no matter if it rained, snowed, the wind blew strongly or our system was covered with ice, the technology worked perfectly. Despite the weather, the sophisticated component mix proved itself and is therefore ideal for outdoor use, even in the dark and cold seasons.
We are looking forward to participating in this year's securing of the major event and to further cooperation.
"After last year's good experiences, the WellnerBOX was part of our security concept from the beginning. Excellent mobility and easy handling make it noticeably easier to use even in bad weather. It is particularly practical that we can satisfactorily solve a wide variety of tasks (visitor flow monitoring, protection against entering etc.) with just one device."
Wolfgang Kestner, CEO SWSG Sachsen / VSU Thüringen